The Verde Watershed Restoration Coalition (commonly referred to as VWRC – pronounced "vee-work") is a collaborative effort uniting private landowners, organizations, and agencies with a common interest in the health of the Verde River Watershed. Together, VWRC Partners are working to control one of the biggest current threats to the Verde River – invasive plants, along with a suite of other projects.
River Trip
VWRC partnered with the National Forest Service for two Lower Verde Wild and Scenic River trips to treat seven acres of fountain grass in three different sites along the river corridor. VWRC engaged Forest Service and Friends of the Verde River employees, as well as four volunteers, to float the 43 miles from Childs to Horseshoe Reservoir. The trips not only focused on treating fountain grass but also cleaning up trash and campsites, along with brushing the river corridor to make passage safer for boaters
Treatment Crews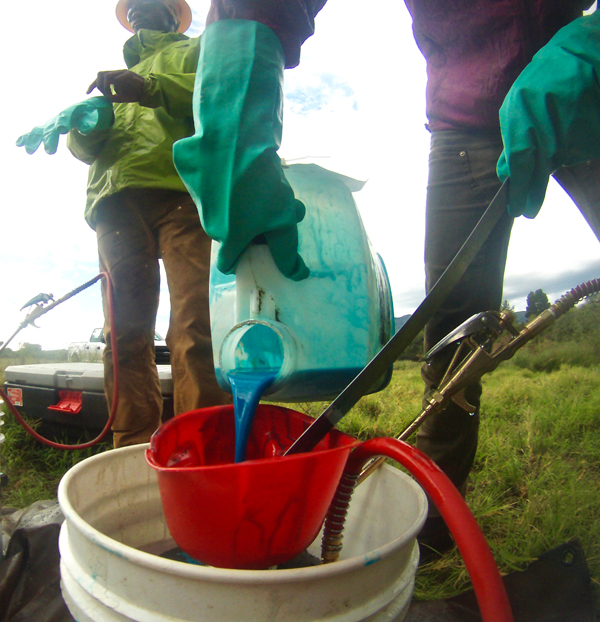 During the spring and summer of 2017, our monitoring crew mapped nearly 1,800 acres of invasive plants, monitored invasive regrowth, and assessed native plant recruitment across the Verde Watershed.
During the 2016-2017 treatment season, Friends had more VWRC crews in the Verde Valley than ever before! Friends employed four AZ Conservation Corps crews and one Vets-4-Hire crew for the entire season. A few even stayed for an extra week. During the summer, two young adults and two veterans conducted surveys along the Verde River and its tributaries.
In total, these crews logged:
30,441 hours — invasive removal
6,100 hours — invasive & native plant monitoring
During the 2016-2017 Field Season, our crews treated over 1900 acres; 227 acres of initial treatment on 455 acres of land, and another 226 acres of retreatment on over 1400 acres of land.
During the 2017-2018 Field Season, we are planning initial treatments on over 700 acres and re-treatment and monitoring on over 1400 acres of land.
Click here to learn more about habitat restoration, solutions we work on and how you can get involved.