Friends of the Verde River held the 6th Annual Verde River Runoff on Saturday, March 17th, 2018 in Camp Verde. This 5 and 10-mile kayak, canoe and stand-up boarder race is a popular event that draws novice and seasoned paddlers alike.  Participants select from multiple entry categories to challenge every type of boater with trained safety personnel stationed at hazard locations.  The 10-mile race is a competitive event with the addition of a 5-mile fun float, this family-friendly celebration of nature and boating provides a great river experience during prime season for river running in the Verde Valley.  The course winds its way through mostly Forest Service lands set against the picturesque backdrop of white gypsum cliffs of Camp Verde. The 10-mile race starts at White Bridge and the 5-mile at the River Access at Clear Creek.  Both races end at Beasley Flats.  The river has a nice current with Class I-II rapids making this an adventure for all.  The after-party and awards presentation ceremony are held in conjunction with the Camp Verde Spring Heritage Pecan & Wine Festival.  Besides being a lot of fun, proceeds go to conservation efforts for the threatened Verde River and outdoor recreation in the Verde Valley. Registration fees: $25/Fun Float, $50/10 Mile Race.
2018 River Runoff Categories & Awards
Awards were presented at the Spring Heritage Pecan & Wine Festival in Camp Verde after the race for 1st, 2nd, and 3rd place in the categories listed below.
Awards:
1st Place: $50.00
2nd Place: $35.00
3rd Place: $20.00
White Bridge to Beasley Flat
Men's Solo Hard-shell Kayak
1st  2nd  3rd
Women's Solo Hard-shell Kayak
1st  2nd  3rd
All Tandem Hard-shell Kayak
1st  2nd
Men's Solo Inflatable Kayak
1st   2nd 
Women's Solo Inflatable Kayak
1st   2nd
All Tandem Inflatable Kayak
1st    2nd
Stand Up Paddle Board
1st  2nd
All Canoes
1st  2nd   3rd
Clear Creek to Beasley Flat "Fun Float"
No awards.
Location: Boater check in begins at 7am at White Bridge River Access Point in Camp Verde, just off of Highway 260. This is also the starting point for the 10-mile race. The end of the race is at Beasley Flat, a U.S. Forest Service Recreation Area.
The 5-mile race starting point is located at the Clear Creek RAP. The river difficulty is class I-II.
This event is made possible through a special use permit from the Prescott National Forest.
Race start time: Starts will begin at 10 am,  and should be completed no later than 3pm. 
Please note that there is no available parking at either RAP on the morning of the race. There will be limited
roadside parking near White Bridge.
Shuttles will be provided from Beasley Flat to starting locations.
The River difficulty is class 1-11. Participants must be 12 years of age or older. Any paddler under the age of 18 must be accompanied by an adult.
2018 Runoff Race Award Results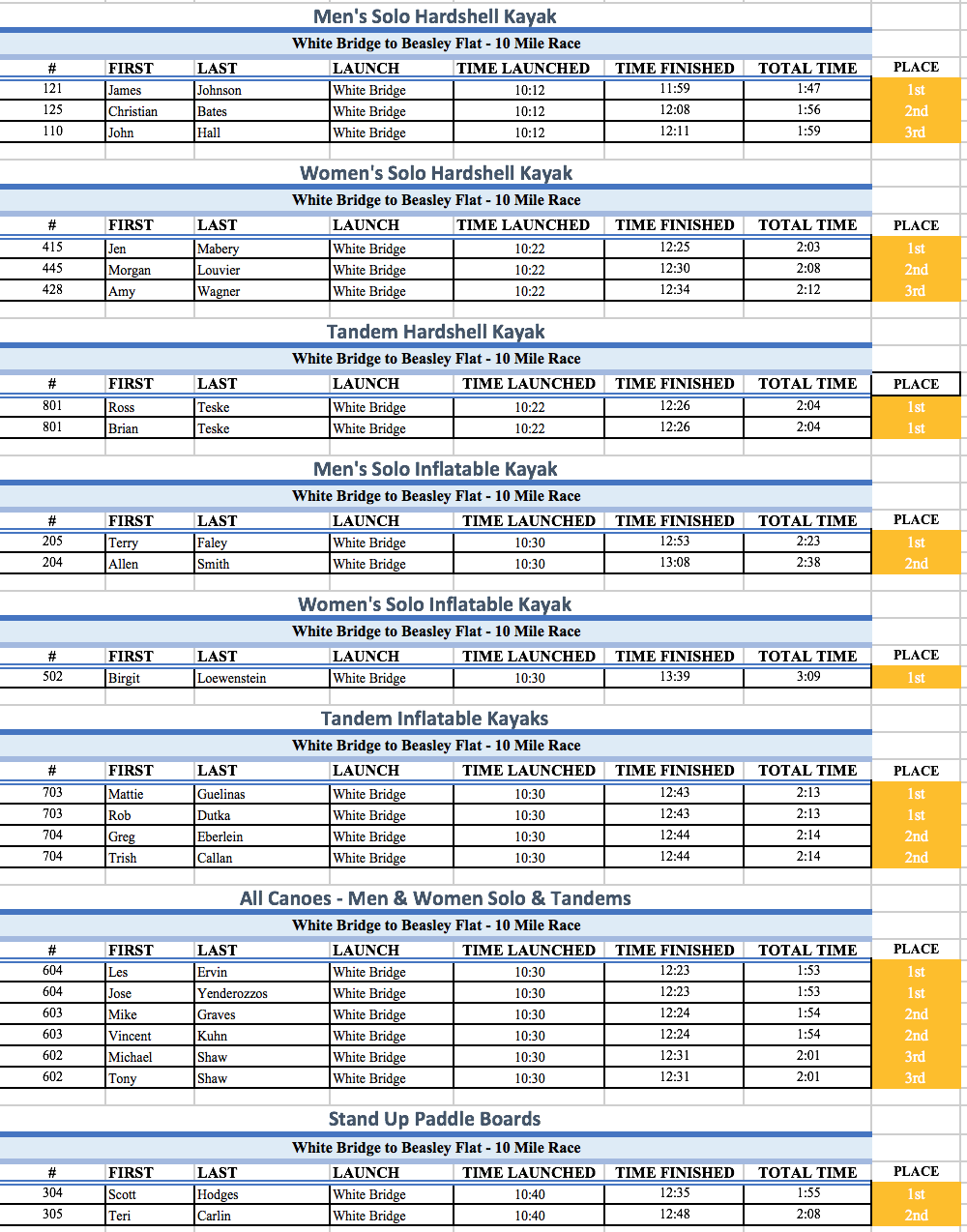 Safety:
Our Safety Team is comprised of local paddlers with varying backgrounds, from professional rescuers to seasoned river enthusiasts, all with extensive knowledge of the Verde River. With varying backgrounds and skills, the Team trains together before each season's event, and are able to combine the techniques to create a comprehensive and solid Safety Set Up for the Race!
Click the links below for additional information.
Need to rent a boat?
Click here to rent a single or tandem inflatable kayak.
Spring Heritage Pecan & Wine Festival
Verde River Runoff Awards are presented at the Spring Heritage Pecan & Wine Festival after the race.
Spring Heritage Pecan & Wine Festival is a two-day festival celebrating the springtime beauty of Northern Arizona, the Verde Valley's rich Native American history, the largest original historic fort in Arizona, and the one-of-a-kind Wild & Scenic Verde River–the last river in Arizona to flow year-round for its entire length. This event is for all-ages, with live music, 40 vendors, and activities for kids on the Community Field, in Camp Verde's historic downtown.
2018 Verde River Runoff highlights coming soon.