Join us as we "Bird the Verde"
Field trips led by experienced guides in beautiful central Arizona's diverse habitats. Guided walks and workshops, vendors and exhibitors along with special events round out this four day event. New field trips are added each year to the schedule of old favorites.
Registration details for the 2019 Festival will be provided soon.
Keynote Speaker: John Marzluff, Professor of Wildlife Science, University of Washington
John Marzluff studies how humans affect birds through habitat fragmentation and increased urbanization, as well as the challenges of conserving birds on islands. He focuses primarily on corvids—that is, ravens, crows, and jays—but he has also worked with falcons and hawks throughout the world. Conversely, he is also interested in all the ways that birds affect people—how, for instance, birds influence art, or language. In addition to his research, he has written several popular science books about crows, including, most recently, Gifts of the Crow: How Perception, Emotion, and Thought Allow Smart Birds to Behave Like Humans. In recognition of his work, he has been awarded the H.R. Painton Awards from the Cooper Ornithological Society, as well as the Washington State Book Award for general non-fiction.
Workshops
Please sign-up for workshops/presentations on your festival registration form. Most workshops are being held at the "Studio" at the far end of the park. Some workshops will be held at the new Water Reclamation Conference Room across from Riverfront Park. Shuttles are available to take participants to the site. Shuttles will leave from the River Day Use area 15 minutes prior to the start of the workshop. Try to arrive at least 5 minutes prior to departure. Restroom facilities are located in the buildings. We do offer limited off-site activities that require your own transportation. Please be aware of these exceptions.
Workshops and seminars have a fee involved and require registration. Both are held in either the Water Reclamation Conference Room or the park "Studio" located in the far end of the park, unless noted otherwise. Check in for all workshops at the registration tent. Participants will be shuttled to and from all workshops/seminars. There is no parking at the Studio. Restroom facilities are located in the building.
Meet at the shuttle stop in the parking lot of the River Day Use Area near the Aviary 15 minutes PRIOR to the seminar or workshop.
Call to Artists
Call to Artists: The Verde Valley Birding & Nature Festival is an annual festival held each April in Cottonwood, AZ and presented by Friends of the Verde River.
Each year artists are invited to submit images of original artwork reflecting the Bird of the Year for consideration as the featured artist. The 2019 festival bird is the Cinnamon Teal.  The 2018 theme is "Water, Like Chocolate for Birds."
The selected featured image will be used to promote the festival through print and online advertising as well as in promotional fundraising products that benefit Friends of the Verde River. The winning artist will receive a $100 award, promotional products that include their image, and a free 10' x 10' space in the vendor tent at the festival to exhibit and sell their artwork. Reproduction products are allowed in the booth. Exhibit dates are April 25 – 28, 2019.
Up to four additional artists work will be selected for inclusion in the digital bird art section of the website and a greeting card collection. Each of the four selected artists will receive $25 and promotional products that include their image.
Please submit up to 3 images of original artwork created in the last 2 years that represents the Verde Valley Birding & Nature Festival featured bird, the Cinnamon Teal.
Apply online at: Click here to apply online.
Deadline to apply: Wednesday,November 14th, 2018
Selection notifications: Monday, November 19th, 2018
High resolution images needed by: Monday, November 26th, 2018
Additional disclaimer: Selected artists will provide high resolution images, at least 300 dpi, and agree to allow Friends or the Verde River and The Verde Valley Birding and Nature Festival full rights to use such image to promote and fundraise for the event and the organization.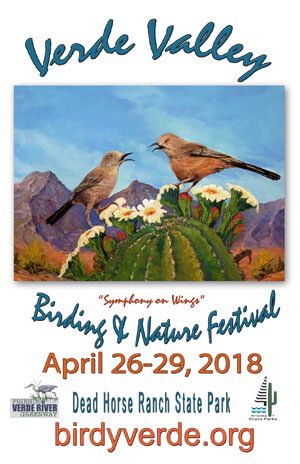 2018 Featured Artist: Gary Binder
The 2018 featured artist is Gary Binder of Scottsdale, AZ. Gary is a frequent traveler, hiker and nature lover, capturing his impressions of the world around him and expressing his feelings about his experiences through his art. Gary's painting was selected as the winning art to represent the 2018 Verde Valley Birding & Nature Festival.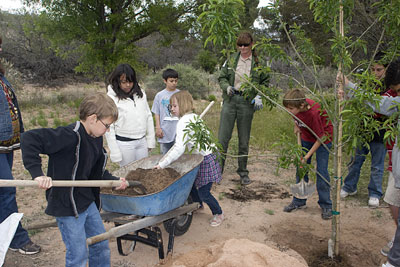 You don't need to be registered for the birding festival to attend this family friendly, kid focused day of activities at Dead Horse Ranch State Park. Park admission is FREE. Check in at the children's registration booth for a complete schedule and 10 free activity tickets per child. We'll be crafting bird feeders, building birdhouses, and playing games that make learning fun.
Contact Chris Jensen, Volunteer Coordinator, via email for specific volunteer interests or positions OR register as a Friends Volunteer and select "Birding Festival" as your interest by clicking here.
Chris Jensen
Volunteer Coordinator
located in Camp Verde, is a birders paradise and a unique place to stay during the festival.
Contact the Cottonwood Chamber of Commerce for information on hotels in the area. Some hotels offer discounts to festival-goers. Please ask when you make your reservations. We encourage you to check with advertisers in the booklet.
Click the link below to get a pdf list of area accommodations.
Camping is available at Dead Horse Ranch State Park. Sites include a table and grill. Water and showers are available. Campsites can be reserved online or by calling the reservation call center. Their is a $5.00 non-refundable fee for each camp site reservation. Hook-up sites with electricity are $25 and $30.00 per night. Non-hookup or tent sites are $15 per night.
Check for availability with the park immediately upon your arrival. Camping fees are paid directly to the park. Please check for any changes in the fees. The park also has cabins to rent within a short walk to the River Day Use area. These must be reserved in advance.
Call the park at 520-586-2283 for cost, availability and reservations.
To contact the park for other information please call 928-634-5283.
This is the 18th annual celebration of this major birding event and it is always a "Big Event" drawing people from all over the USA as well as from local and regional centers. One popular part of the Festival is the Exhibitor facilities. .
All the documentation and applications you need are linked below. For purposes of our Festival, an "Exhibitor" is a not-for-profit organization or government agency and does not sell items at the Festival. We are not accepting for profit vendors on site this year. Please contact us regarding Virtual Vendor opportunities on our website.
Submit all applications checks to: Friends of the Verde River, Attn: VVBNF. P O Box 2535 Cottonwood, AZ 86326
Questions?? Email Dennis Tomko.
Exhibitor Schedule 2019

Day

Time

Place

Saturday, April 27

10am – 5pm

RDU-Reg. Tent