Join us as we "Bird the Verde"
Field trips led by experienced guides in beautiful central Arizona's diverse habitats. Guided walks and workshops, vendors and exhibitors along with special events round out this four day event. New field trips are added each year to the schedule of old favorites. Keynote program features Nathan Pieplow.
Early Bird Registration will start January 29 at 6am.
Registration for the general public begins Feb. 1 at 6am.
Online registration will close: April 18, 2018.
On site registration will begin April 25 at 3pm at the Registration tent.
Schedule
Workshops
Please sign-up for workshops/presentations on your festival registration form. Most workshops are being held at the Studio at the far end of the park. Shuttles are available to take participants to the site. Shuttles will leave from the River Day Use area 15 minutes prior to the start of the workshop. Try to arrive at least 5 minutes prior to departure. Restroom facilities are located in the buildings. We do offer limited off-site activities that require your own transportation. Please be aware of these exceptions.
Workshops and seminars have a fee involved and require registration. Both are held in the Studio located in the far end of the park, unless noted otherwise. Check in for all workshops at the registration tent. Participants will be shuttled to and from all workshops/seminars. There is no parking at the Studio. Restroom facilities are located in the building.
Meet at the shuttle stop in the parking lot of the River Day Use Area near the Aviary 15 minutes PRIOR to the seminar or workshop.
Keynote Speaker: Nathan Pieplow
What bird uses its voice to echolocate inside dark caves? Which bird sings a duet with itself? Which bird sings over a thousand different songs? In this presentation for general audiences, Nathan shares some of his most remarkable audio from over a decade of recording birds in the field. You will see the sounds as well as hear them, and learn the stories of the birds that made them, and what some of those birds are actually saying.
Nathan grew up in South Dakota, and got started identifying bird songs by studying the classic "Birding By Ear" field guides in the Peterson series. It wasn't until 2003, when he faced the frustrations of studying sounds for his first trips to Mexico and Costa Rica, that he became dedicated to finding new and better ways to learn, describe, and catalog bird sounds. Along the way he became a sound recordist and an amateur ethologist (a student of animal behavior). He is the author of Peterson Field Guide to Bird Sounds of Eastern North America.
He currently lives in Boulder, Colorado, where he teaches writing and rhetoric at the University of Colorado. He is a former editor of the quarterly journal Colorado Birds and one of the developers of the Colorado County Birding website and the Colorado Birding Trail. He regularly gives talks about bird sounds to bird clubs and ornithological societies. He can be contacted via email by clicking here.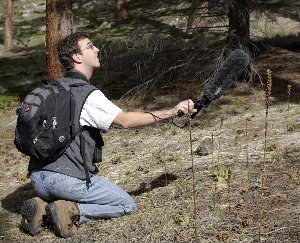 We are excited to bring Nathan Pieplow to the Verde River Valley for this special occasion.
Join us for an evening of entertainment, delicious desserts and the opportunity to learn.
6:30 PM – 9:00 PM
Keynote Reception with Decadent Desserts
Cottonwood Recreation Center, 150 S 6th St, Cottonwood, AZ 86326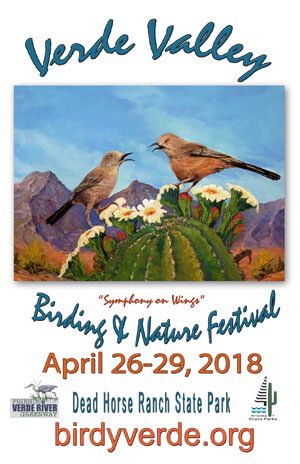 Featured Artist: Gary Binder
The 2018 featured artist is Gary Binder of Scottsdale, AZ. Gary is a frequent traveler, hiker and nature lover, capturing his impressions of the world around him and expressing his feelings about his experiences through his art. Gary's painting was selected as the winning art to represent the 2018 Verde Valley Birding & Nature Festival.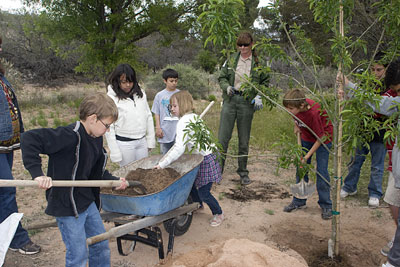 You don't need to be registered for the birding festival to attend this family friendly, kid focused day of activities at Dead Horse Ranch State Park. Park admission is FREE. Check in at the children's registration booth for a complete schedule and 10 free activity tickets per child. We'll be crafting bird feeders, building birdhouses, and playing games that make learning fun.
Contact Chris Jensen, Volunteer Coordinator, via email for specific volunteer interests or positions OR register as a Friends Volunteer and select "Birding Festival" as your interest by clicking here.
Chris Jensen
Volunteer Coordinator
located in Camp Verde, is a birders paradise and a unique place to stay during the festival.
Contact the Cottonwood Chamber of Commerce for information on hotels in the area. Some hotels offer discounts to festival-goers. Please ask when you make your reservations. We encourage you to check with advertisers in the booklet.
Click the link below to get a pdf list of area accommodations.
Camping is available at Dead Horse Ranch State Park. Sites include a table and grill. Water and showers are available. Campsites can be reserved online or by calling the reservation call center. Their is a $5.00 non-refundable fee for each camp site reservation. Hook-up sites with electricity are $25 and $30.00 per night. Non-hookup or tent sites are $15 per night.
Check for availability with the park immediately upon your arrival. Camping fees are paid directly to the park. Please check for any changes in the fees. The park also has cabins to rent within a short walk to the River Day Use area. These must be reserved in advance.
Call the park at 520-586-2283 for cost, availability and reservations.
To contact the park for other information please call 928-634-5283.
This is the 17th annual celebration of this major birding event and it is always a "Big Event" drawing people from all over the USA as well as from local and regional centers. One popular part of the Festival is the Vendor and Exhibitor facilities. .
All the documentation and applications you need are linked below. For purposes of our Festival, a "Vendor" is a for-profit business who will sell items (art, bird items, etc) at their space. An "Exhibitor" is a not-for-profit organization or government agency and does not sell items at the Festival. Vendor site fees are collected in lieu of taking a percentage of the day's sales.
Exhibitor Application
Exhibitor Letter
Vendor Application
Vendor Letter
Submit all applications and (vendor) checks to: Friends of the Verde River, Attn: VVBNF. P O Box 2535 Cottonwood, AZ 86326
Questions?? Email Dennis Tomko.
Vendor/Exhibitor Schedule 2018

Day

Time

Place

Saturday, April 28

10am – 5pm

RDU-Reg. Tent