Join us as we "Bird the Verde"
Field trips led by experienced guides in beautiful central Arizona's diverse habitats. Guided walks and workshops, vendors and exhibitors along with special events round out this four day event. New field trips are added each year to the schedule of old favorites.
Keynote Speaker: John Marzluff, Professor of Wildlife Science, University of Washington
John Marzluff studies how humans affect birds through habitat fragmentation and increased urbanization, as well as the challenges of conserving birds on islands. He focuses primarily on corvids—that is, ravens, crows, and jays—but he has also worked with falcons and hawks throughout the world. Conversely, he is also interested in all the ways that birds affect people—how, for instance, birds influence art, or language. In addition to his research, he has written several popular science books about crows, including, most recently, Gifts of the Crow: How Perception, Emotion, and Thought Allow Smart Birds to Behave Like Humans. In recognition of his work, he has been awarded the H.R. Painton Awards from the Cooper Ornithological Society, as well as the Washington State Book Award for general non-fiction.
Workshops
Please sign-up for workshops/presentations on your festival registration form. Most workshops are being held at the "Studio" at the far end of the park. Some workshops will be held at the new Water Reclamation Conference Room across from Riverfront Park. Shuttles are available to take participants to the site. Shuttles will leave from the River Day Use area 15 minutes prior to the start of the workshop. Try to arrive at least 5 minutes prior to departure. Restroom facilities are located in the buildings. We do offer limited off-site activities that require your own transportation. Please be aware of these exceptions.
Workshops and seminars have a fee involved and require registration. Both are held in either the Water Reclamation Conference Room or the park "Studio" located in the far end of the park, unless noted otherwise. Check in for all workshops at the registration tent. Participants will be shuttled to and from all workshops/seminars. There is no parking at the Studio. Restroom facilities are located in the building.
Meet at the shuttle stop in the parking lot of the River Day Use Area near the Aviary 15 minutes PRIOR to the seminar or workshop.
FOOD & FUN:  FOR THE BIRDS
Saturday, April 27, 6-8:30PM
To learn more about the artists and to listen to a few sound clips, visit: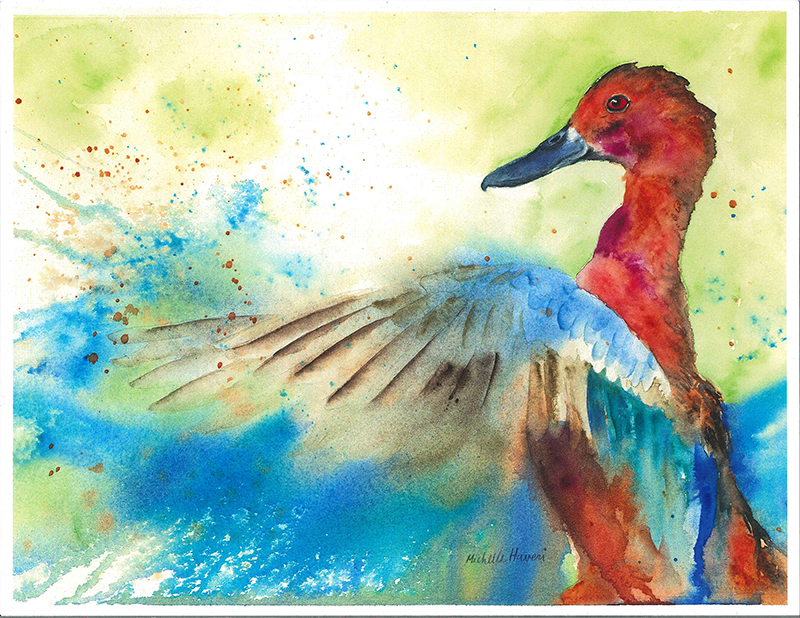 "Splash," by Michelle Haveri
2019 Featured Artist: Michelle Haveri
"Splash," a watercolor painting by Michelle Haveri of the 2019 VVBNF bird, the Cinnamon Teal, was selected to represent the 2019 Festival.
Michelle Haveri began exploring watercolors as a creative and therapeutic process while navigating a devastating health crisis. Painting became an entry point to her heart in the present moment. Playing with colors on paper and watching them dance in surprising and poetic ways has helped her calm her body and mind, reclaim the child inside, and open to life again.
Michelle's profound love for animals, and all they are here to teach us, is reflected in her colorful pet portraits, wild life, and things with wings, all of which extend an invitation to feel the grace, freedom, beauty, power, transformation, and healing qualities they embody.
The evolution of Michelle's healing journey is reflected in many images that speak to her continual movement toward deeper peace, wholeness, and possibility.
Michelle lives in Sedona, Arizona with her husband and dogs. View more of her artwork on her website by clicking here.
Family Nature Festival
Saturday, April 27th, 9am-1pm
"Hummers, Bugs and Butterflies" –  Which plants attract bugs, hummers and different creatures? Learn about Hummingbird and Monarch butterfly migrations. Make a seed/mud ball to take home.
"Binocs and Birds" – Afternoon Event
Learn how to use binoculars, some common birding etiquette, and some basic bird identification, as we watch for birds.
"Pond Life" – what creatures can we find in a pond or river and what does that teach us about water quality?  Take home a pond water aquarium project.
"Beaks, Feet, and Feed" Why birds have different feet, beaks, feed and habitats.  Get a seed feeder kit assembly to take home.
"Beavers, Dens and Dams"– Beavers, dam making and the impact on water retention. Build a simulation dam project and water impact experiment.
Kinder-Pavilion – (Ages 5 and under) Similar topics as above but geared to this age group.
You don't need to be registered for the birding festival to attend this family friendly, kid focused day of activities at Dead Horse Ranch State Park.
Park admission is FREE.
Check in at the children's registration booth for a complete schedule of  activities and games that make learning fun.
Volunteer at the Family Nature Festival:
If you like kids and have an interest in helping kids learn about their environment, we could use your help!  We need 10-12 volunteers for 4 hour commitments on Saturday April 27th from 9AM to 1PM.  If you would like to help kids learn, please call Kathleen Green at 480-759-0001.
Volunteer at the Verde Valley Birding & Nature Festival
Contact Chris Jensen, Volunteer Coordinator, via email for specific volunteer interests or positions OR register as a Friends Volunteer and select "Birding Festival" as your interest by clicking here.
located in Camp Verde, is a birders paradise and a unique place to stay during the festival.
Contact the Cottonwood Chamber of Commerce for information on hotels in the area. Some hotels offer discounts to festival-goers. Please ask when you make your reservations. We encourage you to check with advertisers in the booklet.
Click the link below to get a pdf list of area accommodations.
Camping is available at Dead Horse Ranch State Park. Sites include a table and grill. Water and showers are available. Campsites can be reserved online or by calling the reservation call center. Their is a $5.00 non-refundable fee for each camp site reservation. Hook-up sites with electricity are $25 and $30.00 per night. Non-hookup or tent sites are $15 per night.
Check for availability with the park immediately upon your arrival. Camping fees are paid directly to the park. Please check for any changes in the fees. The park also has cabins to rent within a short walk to the River Day Use area. These must be reserved in advance.
Call the park at 520-586-2283 for cost, availability and reservations.
To contact the park for other information please call 928-634-5283.
This is the 18th annual celebration of this major birding event and it is always a "Big Event" drawing people from all over the USA as well as from local and regional centers. One popular part of the Festival is the Exhibitor facilities. .
All the documentation and applications you need are linked below. For purposes of our Festival, an "Exhibitor" is a not-for-profit organization or government agency and does not sell items at the Festival. We are not accepting for profit vendors on site this year. Please contact us regarding Virtual Vendor opportunities on our website. Visit our Vendor Portal.
Submit all applications checks to: Friends of the Verde River, Attn: VVBNF. P O Box 2535 Cottonwood, AZ 86326
Questions?? Email Dennis Tomko.
Exhibitor Schedule 2019

Day

Time

Place

Saturday, April 27

9am – 1pm

RDU-Reg. Tent