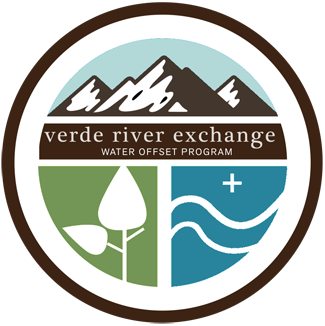 Welcome to the Verde River Exchange
The Verde River Exchange aims to protect Verde River flows and promote sustainable economic development in the Verde Valley by providing a tool for addressing the unmanaged groundwater pumping that threatens to dry up stretches of the Verde River. The Verde River Exchange is an innovative and community-driven "water offset program" that allows groundwater users to offset the impact of their water use by purchasing credits. Credits are created when an existing water user voluntarily reduces their water use. Initiated and supported by Verde Valley businesses, local decision makers, residents, and conservation organizations, the Verde River Exchange's balancing mechanism offers a path forward to help preserve the Verde Valley's rural character and unique beauty while also meeting local water needs.
Verde River Exchange in the News
Verde River Exchange Participants
The Exchange Was a Finalist for the 2016 Arizona Water Innovation Challenge
Verde River Exchange advisory council members and others gather at the 2016 Arizona Water Innovation Challenge awards ceremony, where the Verde River Exchange was one of five statewide finalists.
Advisory Council
Steve Ayers
Nikki Bagley
Linda Buchanan
Peter Culp
Tim Elinksi
Jocelyn Gibbon
Chris Kudzas
Chip Norton
Kimberly Schonek
Doug Von Gausig