The Verde River watershed encompasses the Verde River – all 192 miles of it, from its headwaters in Chino Valley to the confluence with the Salt River – and the smaller tributaries that feed into it.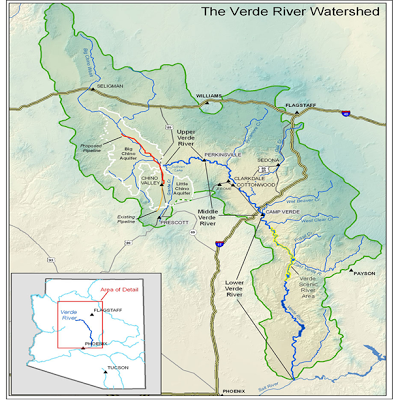 The Verde River watershed has several particularly notable elements, including:
miles of lush riparian habitat
40.5 miles of federally designated Wild and Scenic River
it is one of Arizona's last free-flowing rivers
a rare Fremont cottonwood/Goodding Riparian Gallery Forest – one of only twenty remaining in the world
it is home to beaver, river otters, native fish, great blue heron, gray fox, bobcat, javelina, bald eagles, myriad native reptiles and amphibians, and many, many more (including nearly twenty federally designated endangered and threatened species)
it is a critical flyway for migratory birds
A healthy watershed provides a wonderful place for people to live and supports lots of wildlife and vibrant plants as well. To enjoy these things, it is everyone's responsibility to keep their watersheds healthy.
Learn more about the Verde River Watershed, the Verde River, the wildlife and habitat, and your place in the watershed by following the links below.
The Verde River and its tributaries are a regional, state, and national treasure. The river and humans within its watershed are inextricably interconnected. The river is socially, economically, environmentally, and culturally important.
Please visit our Top 10 Things to Know About the River page for further reading.