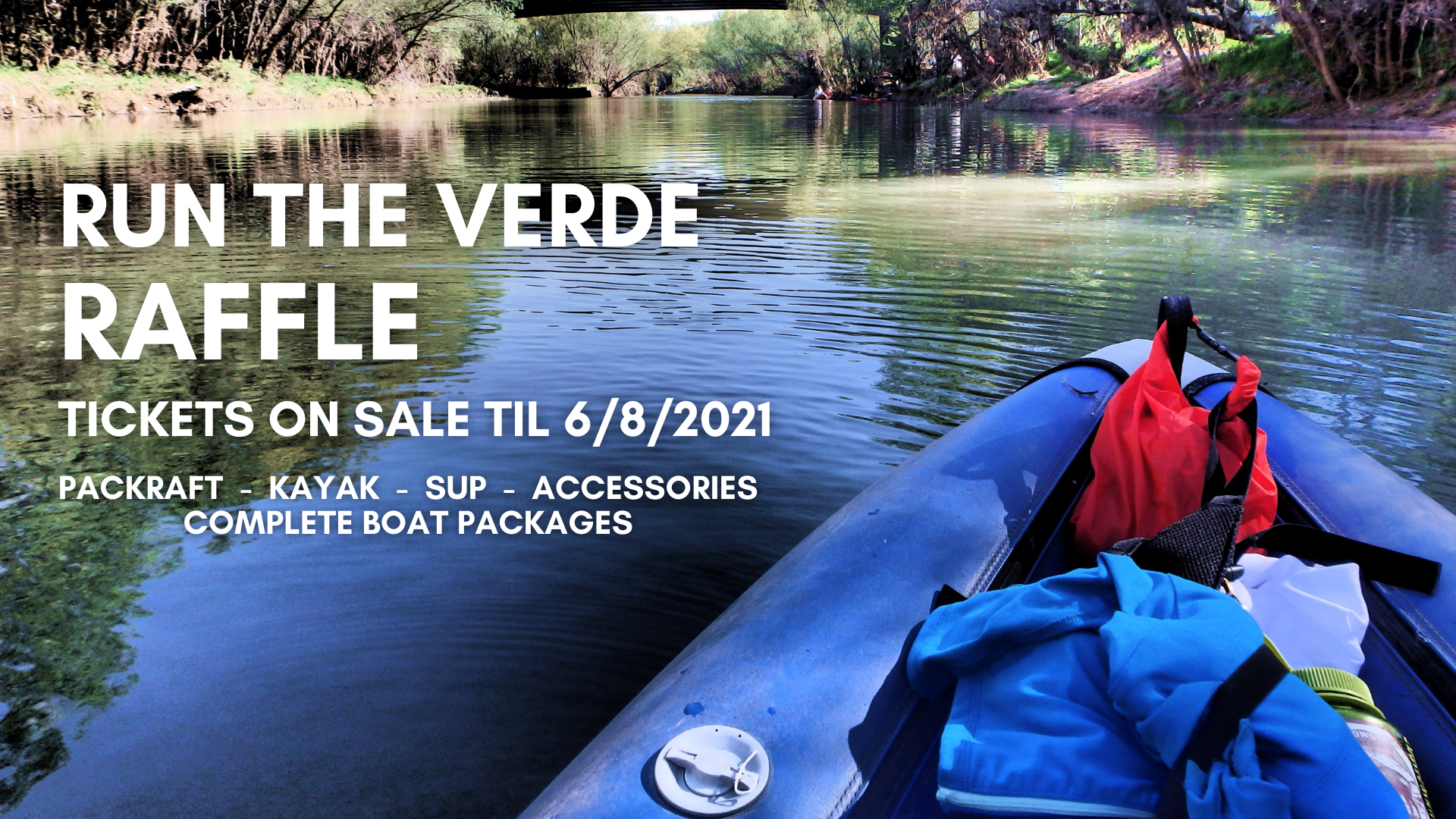 The Run the Verde Raffle is an annual tradition that promotes access and activity on the Verde River. This year we have four boating packages to win, containing everything you need to hit the water! Tickets are priced at 1 ticket for $30 ($30/ticket), 2 tickets for $50 ($25/ticket), or 5 or more for $20/ticket. This raffle will run through 11:59 pm on June 8, 2021.
First Prize – valued at over $1500!
Second Prize
Third Prize
Fourth Prize
Rules, Regulations, and Eligibility
RUN THE VERDE RAFFLE
The Run the Verde River Raffle benefits programs of Friends of the Verde River.
#1. Entry purchases must be made in the state of Arizona and purchasers must be 21 year of age or older. Tickets will only be sold online: https://secure.qgiv.com/for/everegbas/event/822369/ 
#2. Tickets will be sold beginning Tuesday, November 12, 2020, and will be sold through Tuesday, June 8, 2021, at 11:59pm. Tickets will be sold at three price points: 1 ticket for $30.00 each, 2 tickets for $50.00, and 5 tickets for $100.00. After 5 tickets are purchased, any additional tickets purchased will cost $20.00.
#3. All tickets purchased will be paired with the purchaser's name. Once ticket sales are closed, the list of names will be exported into an excel spreadsheet which will show the purchaser's name the amount of times equal to the number of tickets purchased. At that point, each entry will be paired with a number. Friends of the Verde River will utilize a random number generator and then pair the selected number with the name it is attached to on the spreadsheet. Ticket sales will close on June 8, 2021, at 11:59pm. The winners of all packages will be announced on June 9, 2020.
#4. The prizes cannot be exchanged or redeemed for cash. The winner will be contacted directly by Friends of the Verde River via email and prizes will be mailed to each raffle winner or will be available for pickup at Friends of the Verde River at 115 S. Main St. Suite A, Cottonwood, AZ 86326, by prior appointment only. Delivery may be available for local winners, depending on location. The winners have 60 days to claim their prize. If not claimed in 60 days, or by August 8, 2021, the prize is forfeited and will be reverted back to Friends of the Verde River.
#5. Taxes and IRS Rules. All proceeds benefit Friends of the Verde River, a non-profit organization operating under paragraph 501(c)(3) of the Internal Revenue Code and the laws of the State of Arizona. Winner shall be responsible for any applicable federal, state, and local taxes. The IRS has taken the position that amounts paid for chances to participate in raffles, lotteries or similar programs are not gifts and, therefore, the price of the entry does not qualify as a deductible charitable contribution or donation for income tax purposes. This information does not constitute tax planning advice; consult your tax advisor for more information.
** This information will be included in your receipt after ticket purchases are confirmed **