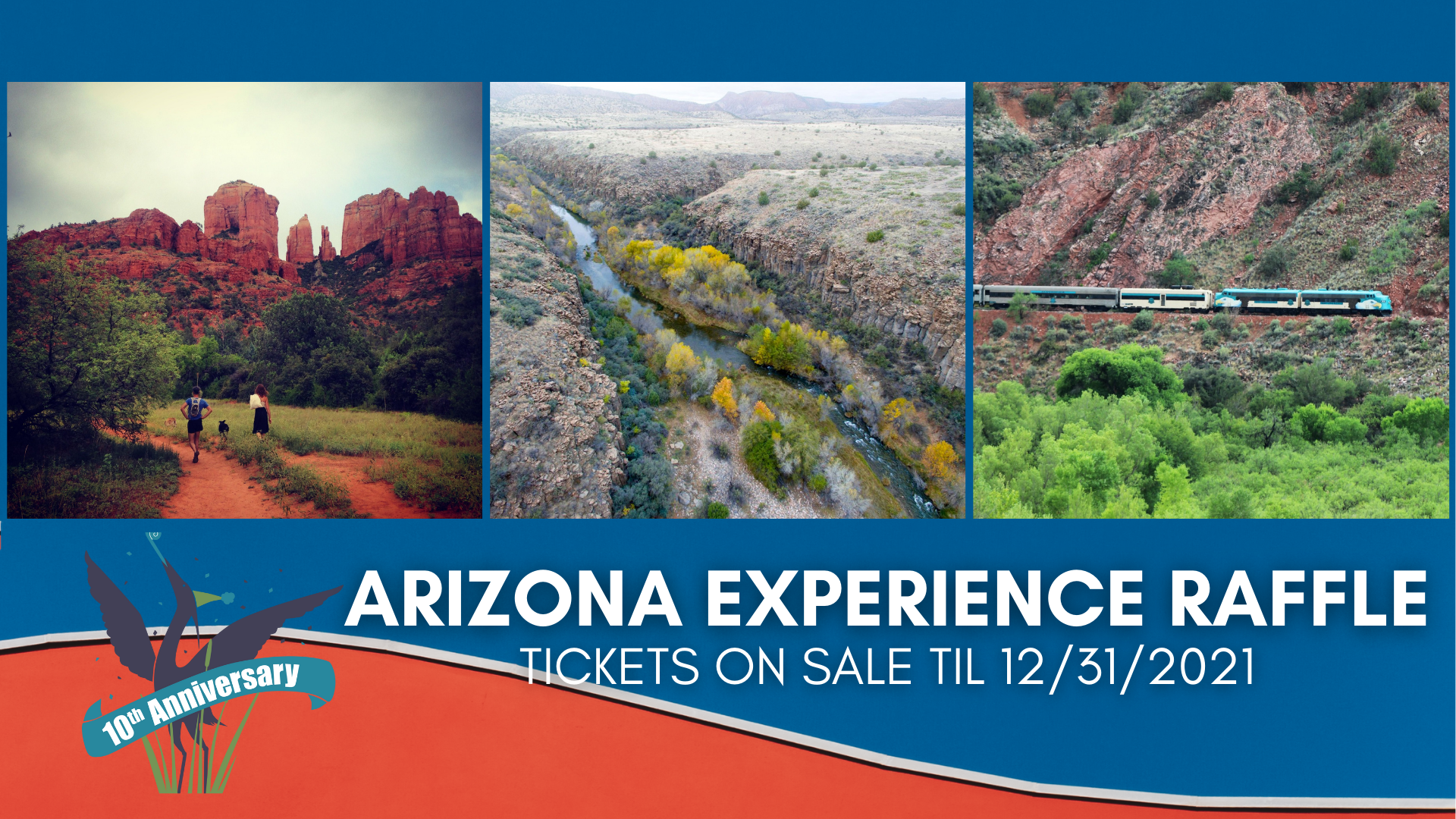 Arizona Experience Raffle
Full Package & Item Descriptions
Sedona 1
Private Sacred Spires Helicopter tour for 2 with Guidance Air

Soar over Cathedral Rock, Bell Rock and Courthouse Butte—some of the most famous red rock spires of Sedona. Share renowned vistas from a unique perspective.

Complimentary glass of local wine

A pair of souvenir wine glasses

Gift Card to Pink Jeep Tours

Up to 2 people for the Diamondback Gulch Tour. This tour brings the Arizona high country to life with a rugged, off-road adventure. You'll snake through the Verde Valley leaving Sedona behind for the red rocks of Coconino National Forest. Each excursion offers an unforgettable backcountry tour with insider info from the area's most knowledgeable and experienced local guides.

2 hours and 30 minute tour

2 Tickets to Sedona Vortex and UFO Tours

Featured on the Travel Channel, History Channel and Discovery Channel – Sedona Vortex and UFO Tours – tour for two to experience a UFO tour with military grade night vision goggles.

$60.00 Gift Card to Gerardo's Italian Kitchen
Sedona 2
2 Full Day Passes with Sedona Fly Fishing Adventures

Valid for 2 full full day guided fly fishing trip along Oak Creek in Sedona
Tlaquepaque Arts & Crafts Village
$150 gift card – must be spent at one location within Tlaquepaque Arts & Crafts Village of Sedona

Rotten Johnny's Wood Fired Pizza

Cheers of Sedona

$50.00 redeemable at Cheers of Sedona, Sedona Outdoors, or Western Trading Post
Verde Valley
2 First Class Tickets for Verde Canyon Railroad, Clarkdale

First-class passage, accommodating fewer passengers than coach, includes spacious living room-style seating near panoramic windows. Other amenities include a champagne toast upon boarding, full-service cash-bars presenting premium liquors, service at one's seat and a variety of complimentary appetizers.

2 Night Stay at the Pines Inn & Suites, Cottonwood

Enjoy two nights at the lovely and friendly Pines Inn and Suites, located right in Cottonwood, Arizona! Conveniently located to Wine Tasting and Boutique Shopping in Old Town Cottonwood, Sedona and Jerome.  Easy access to the internationally renowned Verde Valley Wine Trail.

Redeemable Sunday through Friday

4 Passes to Out of Africa, Camp Verde

Out of Africa Wildlife Park strives to educate and entertain, to provide an exciting and engaging opportunity to love and respect creation and Creator. It is a place where family and friends gather to experience oneness with animals and each other during safaris, tours, walks, observations, and shows of wild-by-nature animals in their own, natural splendor. 

Locally raised bulk meat from Tres Brisas Beef in Camp Verde

¼ Cow, cut into; steaks, ground beef and roasts. Beef will be portioned and packaged.
Phoenix
2 Tickets to a Diamondbacks Baseball Game

Two (2) Dugout Reserve Tickets to one (1) D-backs game of the 2022 regular season at Chase Field + Diamondbacks merchandise.

Scheduling details will be coordinated with the seat owners and package winners, via Friends.

Spa and Salon Gift Card – Pointe Hilton Tapatio Cliffs Resort and Spa

Enjoy your choice of spa treatments with a $240 gift card to the spa at Pointe Hilton Tapatio Resort

4 Tickets to the Musical Instrument Museum

Exhibits, concerts, events and more – experience the joy of musical instruments, spanning over 6,000 years of history. Open daily, 9am-5pm.

$50.00 Gift Card to Arriba Mexican Grill

Specializing in New Mexican Cuisine, Arriba Mexican Grill has been serving the valley with spice since 1995. Locations in Phoenix, Glendale, Scottsdale, Gilbert, Ahwatukee and Goodyear.
Thank you to all the local and state-wide businesses that contributed to this year's raffle!
Raffle Rules, Regulations, and Eligibility
2021 Arizona Experience Raffle
The Arizona Experience Raffle benefits programs of Friends of the Verde River.
#1. Entry purchases must be made in the state of Arizona and purchasers must be 21 year of age or older. Tickets will only be sold online: https://secure.qgiv.com/for/raffor/event/838293/ 
#2. Tickets will be sold beginning Monday, November 1, 2021, and will be sold through Friday, December 31, 2021, at 11:59pm. Tickets will be sold at three price points: 1 ticket for $20.00 each, 3 tickets for $15.00 each, and 10 tickets for $10.00 each.To receive the discount, tickets must be purchased in the same package. After 10 tickets are purchased, any additional ticket(s) purchased will cost $10.00.
#3. All tickets purchased will be paired with the purchaser's name. Once ticket sales are closed, the list of names for each prize package will be exported into an excel spreadsheet which will show the purchaser's name the amount of times equal to the number of tickets purchased. At that point, each entry will be paired with a number. Friends of the Verde River will utilize a random number generator and then pair the selected number with the name it is attached to on the spreadsheet. Ticket sales will close on December 31, 2021, at 11:59pm. The winners of all packages will be announced on January 4, 2021.
#4. The prizes cannot be exchanged or redeemed for cash. The winner will be contacted directly by Friends of the Verde River via email and prizes will be mailed to each raffle winner or will be available for pickup at Friends of the Verde River at 115 S. Main St. Suite B, Cottonwood, AZ 86326, by prior appointment only. Delivery may be available for local winners, depending on location. The winners have 60 days to claim their prize. If not claimed in 60 days, or by March 4, 2022, the prize is forfeited and will be reverted back to Friends of the Verde River.
#5. Taxes and IRS Rules. All proceeds benefit Friends of the Verde River, a non-profit organization operating under paragraph 501(c)(3) of the Internal Revenue Code and the laws of the State of Arizona. Winner shall be responsible for any applicable federal, state, and local taxes. The IRS has taken the position that amounts paid for chances to participate in raffles, lotteries or similar programs are not gifts and, therefore, the price of the entry does not qualify as a deductible charitable contribution or donation for income tax purposes. This information does not constitute tax planning advice; consult your tax advisor for more information.
** This information will be included in your receipt after ticket purchases are confirmed **