One for the Verde brings together the collective resources of business conservation partners to raise funds to implement conservation projects across the Verde River Watershed. These conservation projects directly enhance the natural resources of the watershed which is essential to our community's way of life.
The Problem
The Verde Valley and the Verde River have always been prized to locals, but more and more it is becoming a destination for visitors from all over the region, state, and nation. With the influx of visitors, greater demands are placed on our local natural resources. One for the Verde allows local businesses and their customers, whether local or from out of town, to work together to help ensure that our natural resources are managed to the benefit of us all. One for the Verde strongly believes that a healthy Verde River contributes to a healthy local economy.
The Solution
By joining a group of businesses together, such as the One for the Verde Conservation Partners, they are able to join their efforts across the business community to contribute to conservation efforts across the watershed.
How It Works
Local businesses partner with their customers to contribute funds to One for the Verde. Each business chooses it's unique way of contributing. Examples include:
Portion of the cost of a bottle of wine or special flight of tastings contribute to One for the Verde
$1.00 per kayak rental contributes to One for the Verde
A special event may raise money through sales or raffles
A special item in the inventory is named "the Verde River item" and a portion of proceeds go to One for the Verde
Customers are asked to round up at the register and proceeds go to One for the Verde
If you want to participate, and don't find an idea here that works for you, talk with us and we'll work it out. We can also put you in contact with similar businesses who can explain how they participate as a Conservation Partner.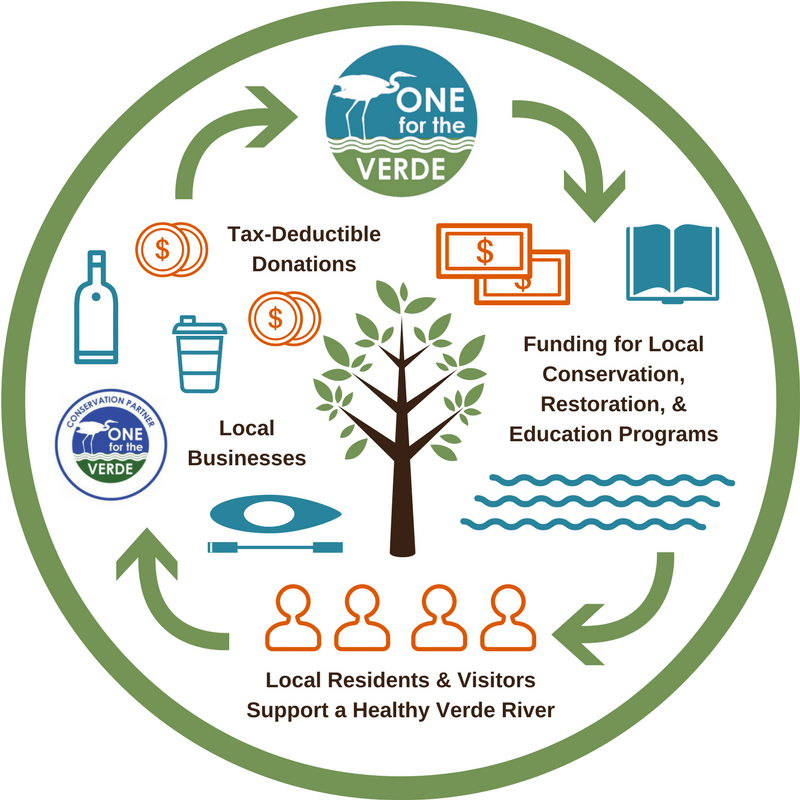 Educating the Customer
We have window signs, point-of-sale displays and brochures that provide customer
notification. Most businesses put one at the customer entry and one near the cash register or check-out counter. This is all the notification you need. We do not expect you or your staff to explain the program to every customer transaction, unless they ask directly – which is rare.
Tax Deductions
Customer donations are not taxable to your business, so long as you pass those donations on to One for the Verde. Your business cannot write off customer donations either. If you choose not to collect a donation from your customers, but make the donation yourself, then your business is entitled to the tax deduction.
Where does the Money go?
Businesses contributions go directly into a savings account used only for funding conservation, restoration, and education programs. One for the Verde's operating expenses (mostly our coordinator position salary) will be paid for with grants and larger donations from patrons.
One for the Verde distributes contributed funds through an annual competitive grant cycle. Local conservation organizations, municipalities, and public land agencies submit applications to implement projects in support of a healthy Verde Watershed. A Selection Board, made up of participating business owners and community leaders, will choose the recipients.
One for the Verde Staff and Advisory Board
Melissa Robinson, One for the Verde Program Coordinator
Harry Sweet, Friends of the Verde River Board Member
Laura Jones, Community Engagement Coordinator, Friends of the Verde River
Advisory council Business Community Volunteers
Wendy Edwards, Apsey, Watkins and Diesel
Jeff Hendricks, Chateau Tumbleweed
Lori Mabery, Blazin' M Ranch
Tom Taylor, Taylor and Huntly Financial Group